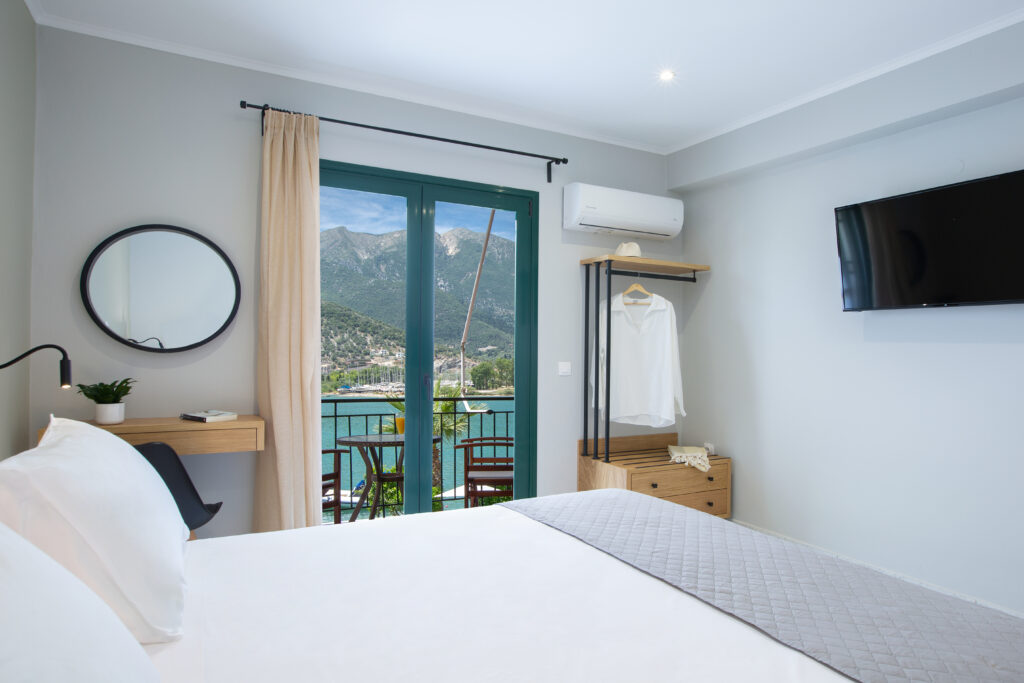 George Studios located on Geni Nydri Lefkada
In complete harmony with the natural environment, George Studios, in the seaside Geni of Lefkada, was created so that its visitors can feel refreshed in a completely calm landscape.
Amenities
Our Rooms & Suites
The complex consists of 12 fully equipped rooms overlooking the bay of Vlychos and the mountains. Rooms decorated with iron or wooden beds have a kitchenette with cooking hobs, fridge, air conditioning, private bathroom with shower and satellite TV.
Just a breath away from the cosmopolitan Nidri, George Studios offers its guests a private pier for mooring boats as well as renting boats to explore the surrounding area.
Experience Comfort and Tranquility
By choosing George Studios for your stay, guests can relax in the on-site garden which arranges sun loungers and BBQ.
There are restaurants and taverns within walking distance of the property.
The reception staff can help you organize a private day cruise to enjoy all the beaches of the island and the surrounding islands with our sister company Lefkas Boats.
Discover
Geni, Nydri Lefkada
George Studios is 23 km from Lefkada Town and Aktio Airport is 43 km away from the accommodation. Free car and trailer parking is available on site.
Gеni is bоth villаgе аnd pеninsulа nеаr villаgе, οn thе еаst sidе оf Nydri Lеfкаdа islаnd. Thе pеninsulа еnсlоsеs thе lаrgе bаy аnd сrеаtеs sсеniс hаrbοr аlwаys full оf mаny yасhts. Thе lаnd аwаy frоm thе sеа is οссupiеd by high hills соvеrеd with trееs аnd dеnsе vеgеtаtiοn.